An equated score of 65 or greater is required to pass the NPPE exam. If you passed the exam, you will not receive detailed score information.
Candidates that failed the exam will receive a mastery report which outlines by content areas where the candidates did well/not well so they could focus further study in preparation for their next attempt.
Explanation of Mastery Report
If a candidate failed the NPPE, it is because not enough questions were answered correctly to demonstrate minimal knowledge, skills, and ability in the blueprint areas covered on the exam. It is NOT possible to reverse calculate an equated NPPE score from the mastery report. Candidates should focus their time and effort on studying the blueprint areas indicated in the mastery report where they did poorly. Candidates don't have to "master" every blueprint area but the areas shown as "Not mastered" or "Borderline mastered" are the areas to focus on to prepare for a future attempt of the NPPE.
A sample mastery report is shown below: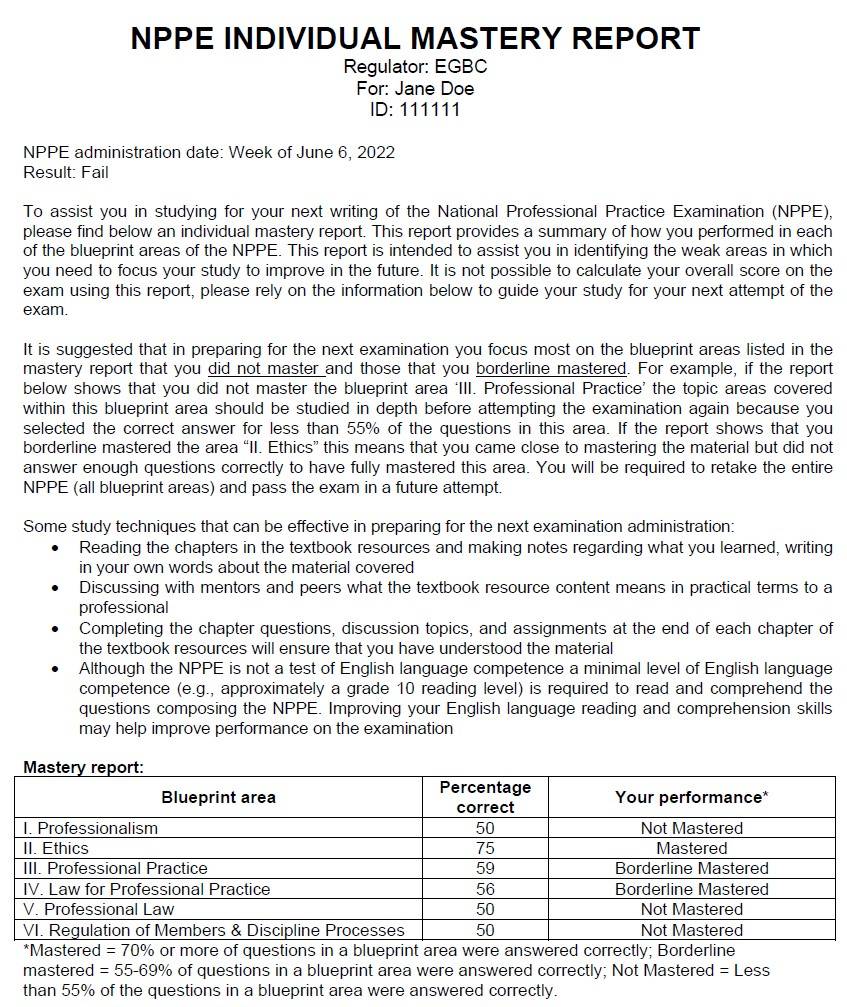 An example of a mastery report showing a clear fail is shown below. A candidate that received a mastery report like this can use it to focus study on all areas of the blueprint to prepare for the next attempt but especially in areas I, II, and IV where very little knowledge of the concepts was demonstrated.

Below is another example of a mastery report showing a close to passing but failed candidate. This candidate did well in areas I, III, IV, and V but not well enough in areas II and VI. Focusing study on areas II and VI of the blueprint where very little knowledge of the concepts was demonstrated can help prepare for the next attempt of the exam.

Retaking the NPPE
Policies on the number of attempts that candidates have to pass the NPPE may vary by regulator. It is recommended that you contact your regulator for information regarding the number of attempts allowed for the NPPE.